Intelligent Body Movement Training Programs
Training programs are open to both professionals and non-professionals. Our professional training program teaches all students how thoughts, feelings and actions are fundamental to neuromuscular control and coordination. You'll learn how to relieve pressure and strain on joints and muscles while improving quality of motion. Students will learn through interesting movement explorations and hands-on tactile experiences while achieving greater control and performance in their own lives. These movements will be integrated with lectures and discussions.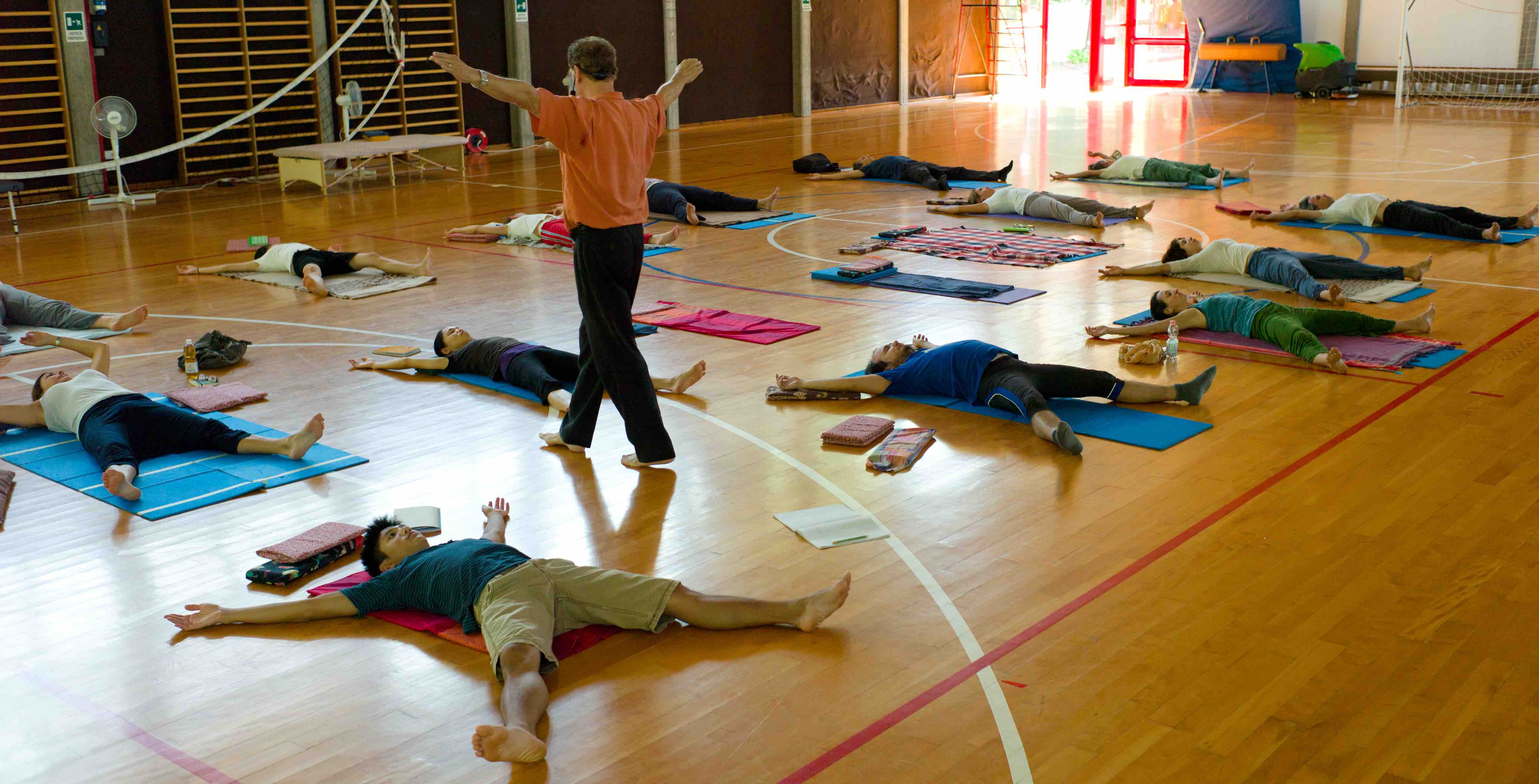 A successful practitioner must be able to nurture a deep rapport with clients. This elusive quality is a key part of our program. It promises you intrigue, stimulation and lasting reward. Participants will learn the latest in working with chronic pain issues as well as learning how to work with high level movers, be they professional or semi-professional athletes, dancers, or martial artists. The advantage of such a program includes the personal satisfaction of helping others while learning patterns of "breakthroughs" for even the most persistent of client problems.
Study Topics Include:
The Study of Holistic Movement
Evolutionary anatomy and movement functions
The Evolution of Motion- How did thought and awareness arise from our body?
How we learned to acquire movement and language skills
Non-verbal communication
The Study of Creativity
Martial Arts, Sports, and Dance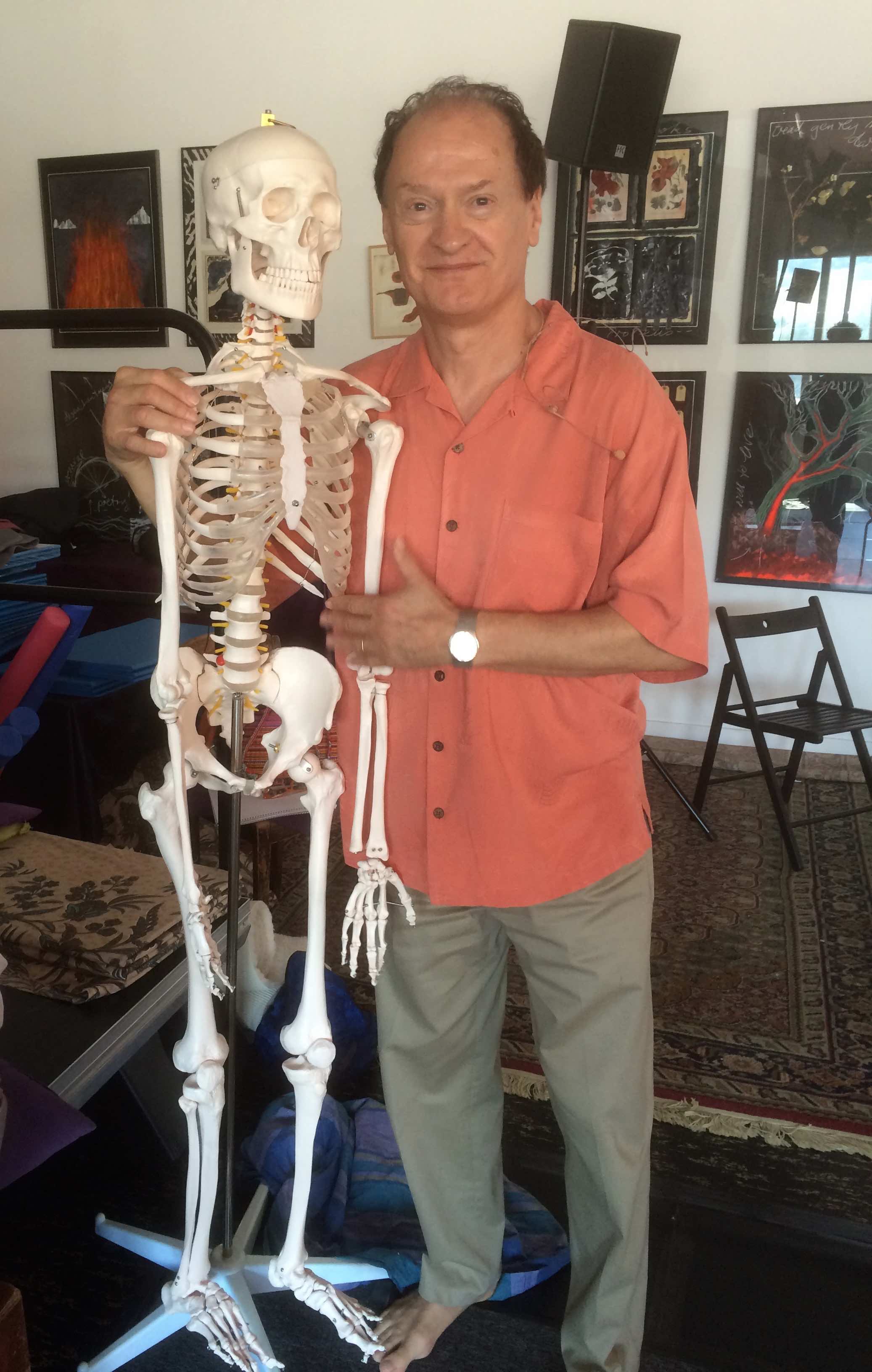 Each training program is developed by Frank Wildman, PhD, and taught by some of the most inspiring instructors in the somatic field today. The professional training program offered by the Movement Studies Institute provides a theoretical and technical background for study that relates to virtually every discipline taught in major universities and teaching institutions. Due to the great versatility and significance in people's lives, including rehabilitation, performance development, and improving self-awareness, graduates are able to select from a variety of career opportunities.
After graduation, many students have applied their education to such fields as physical therapy, occupational therapy, neuromuscular rehabilitation, gerontology, childhood special education, massage therapy, psychotherapy, speech pathology, sports training, dance, music, performing arts and more.
"Frank Wildman's Professional Trainings create the optimum environment for learning: a friendly, mutually supportive group of students, a comfortable physical environment, a dedicated and skilled support staff and instructors who are not only skillful in the method but skillful in the application of learning theory tailored to the needs of the group while mindful of the individual students needs."
-John B. Chester, MD, Orthopedic Surgeon and former director of Pain Services, Salem Hospital Regional Rehabilitation Center
"Dr. Wildman's Training Program has helped me become more aware of my teaching style while teaching me about effective movement. He has provided greater skills that help me communicate movement more accurately to my students. Frank is brilliant. He has the ability to weave different sciences in a way that expands one's perspective."
-Rosa Pasarin, Polestar Pilates International Educator and Feldenkrais practitioner
The program is structured in two week sections spread over the course of several years, depending on the location.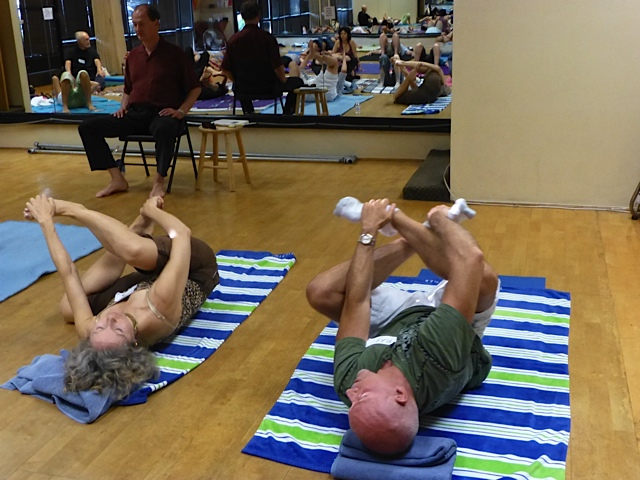 The coursework offers a profound and pleasurable learning experience. You'll balance your time between intense study and periods to assimilate the depth of information. Classes are woven together in an experiential and exploratory manner. Hands-on lessons, lectures, discussion groups, reading and DVDs will help guide you to learn at your own pace in a non-competitive environment.
Curriculum and Learning Strategy
Hundreds of movement lessons explore every joint and muscle group in the body, recapturing the organic learning processes of childhood. They are done in a group setting with other students. Many of these lessons were devised by Dr. Moshe Feldenkrais, as well as Frank Wildman. These explorations illustrate particular movement concepts and are balanced with lectures, demonstrations, and discussions.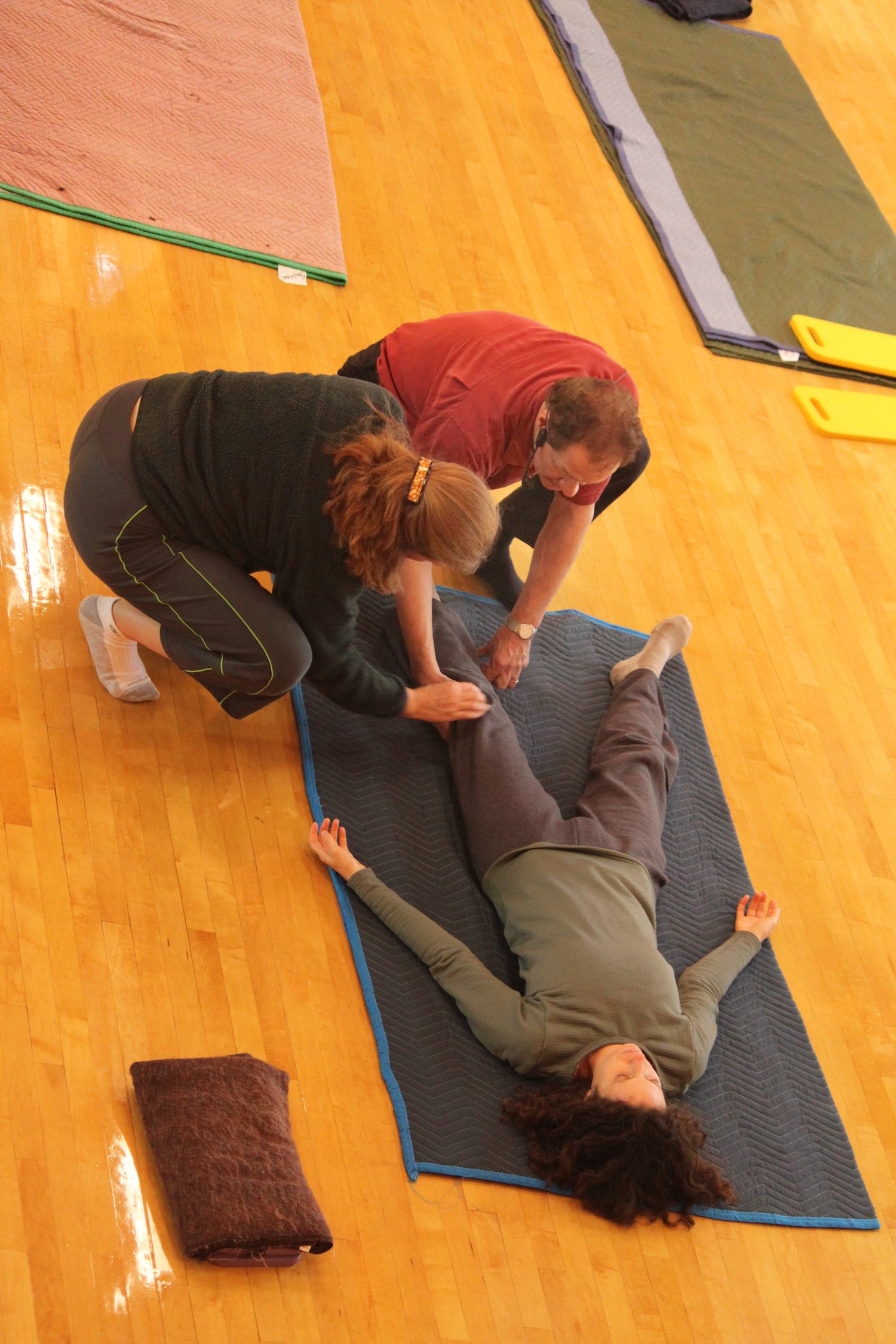 A systematic approach of working "hands-on" with another individual to address specific neurologic or muscular problems will be emphasized. Students receive personalized private instruction and supervision from staff as they develop their own skills to work with others. In the final year, a clinic allows students to perform hands-on lessons under supervision while receiving detailed feedback.
Dr. Wildman integrates the teachings of Dr. Moshe Feldenkrais, the greatest movement scientist of the last century, and Dr. Stanley Keleman, a pioneer in somatic psychology. Frank Wildman was Dr. Feldenkrais' first North American student and taught his work for over 40 years. He simultaneously studied with Dr. Keleman for over 30 years. Movement lessons are closely examined and discussed in order to focus upon key principles and theories of these luminaries.
All discussions, lessons, and demonstrations are recorded and made available to students. These daily recordings provide an indispensable means of study and facilitate make-up sessions in the case of absence. They also serve as a record of the student's progress and enable review of one's physical transformation.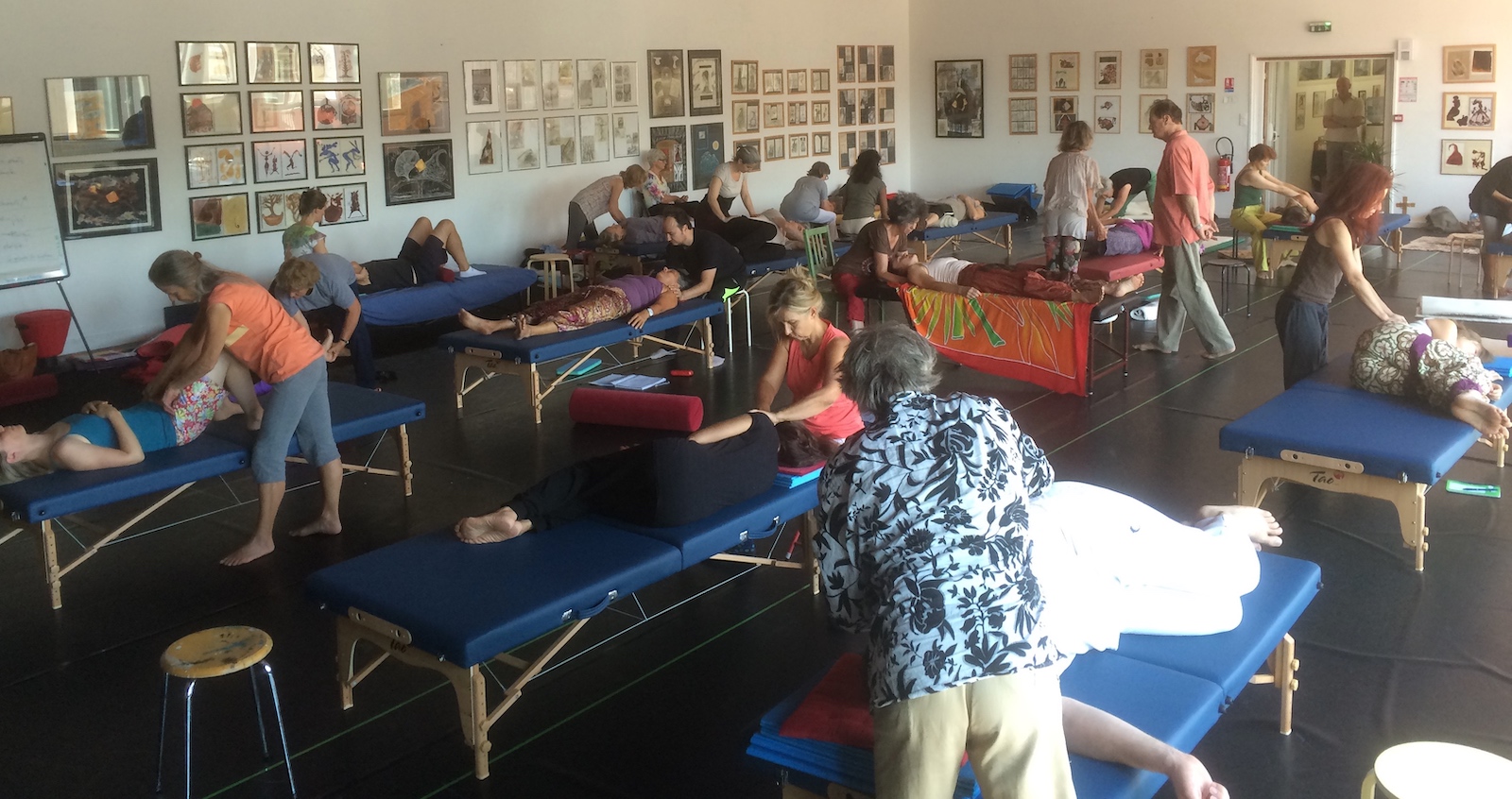 In addition to interaction with instructors, students work in small groups to maximize teaching and understand handling of different individuals. Study groups occur in a highly personalized manner for greater understanding of interactions. The groups promote invaluable relationships among participants and a sense of mutual support or a home away from home. It is from these study groups that many lifelong colleagues and friends can be established.
Tuition, Fees and Enrollment
Tuition
The exact cost varies according to the particular location of the training program.
Housing
Housing information is provided to applicants upon enrollment. There are many housing options that range in cost, location and type of accommodation. Housing listings are mailed to enrollees with ample time to make necessary arrangements. Maps of each area and public transportation information are also provided.
Enrollment Information
We are currently accepting students for all NEW trainings. Contact the office for application information and forms.
Primary emphasis is placed on an applicant's motivation for personal development and career goals. There is no educational prerequisite or existing professional background required.
Program Faculty and Instructors
Frank Wildman, Ph.D is Educational Director of the Movement Studies Institute. All other faculty members studied directly with Dr. Moshe Feldenkrais and have been carefully selected for their mastery and strong teaching skills. Other practitioners with an advanced level of study and ability to inspire and support students may assist with instruction. During all phases of coursework, a low student-teacher ratio is maintained to ensure close supervision.
Student Evaluation and Graduation
Throughout training, students have a regular opportunity to meet with the program director and teaching faculty for guidance in their studies. You'll receive personal support in your learning experience, encouragement of your progress, plus attention to many professional aspects of setting up your own practice.
Graduation is based on completion of the following:
Intelligent BodyMind Movement lessons and Hands-on coursework.
Full attendance in all sessions of the training program and
Successful evaluations from faculty
Missed days must be completed through make up sessions provided by the staff prior and/or video work prior to graduation.
The Movement Studies Institute is a registered 501(c)(3) nonprofit organization dedicated to the promotion of Somatic Education worldwide, having trained more practitioners around the world than any other since 1985.

Payments can be made with Visa, MasterCard, or by personal check.

All applications are reviewed prior to acceptance by the Administrative Director and Dr. Frank Wildman, Educational Director. Primary emphasis is placed on an applicant's motivation for personal development and career goals. There is no education prerequisite or existing professional background required. Therefore, your overall profile will be taken into consideration. A telephone interview may be requested.

The Professional training program is not intended to provide medical rehabilitation or psychiatric treatment for enrollees, nor is it intended to replace training in those fields.

Training programs may be subject to cancellation in cases of insufficient enrollment, faculty availability or facilities. In the case of faculty or location changes, enrollees will be notified at least 30 days in advance and given the option for refund.

Laws of a given country or state may vary in regard to the use and applications of movement lessons and/or hands-on procedures taught in the program. There may be additional requirements to practice in your state or country and some form of licensing may be required to teach movement lessons and perform hands-on lessons. The program may provide you with many or all of the state requirements. Any additional requirements beyond the scope of the course are the responsibility of the applicant or student.